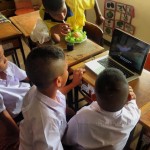 We would love to bring a laptop to every coconut club for children to start practising their computer skills. Children can take turns to familiarise themselves with programs such as Word, Paint and surfing the internet!  For only $300 you can make this happen!
 Funded By:  Available
Donor(s):   
Background:
While doing Orphanage site checks this past October in Phuket, Thailand, we found the Life Has Been Good To Us Foundation a group worthy of our support that is assisting 130 Orphans through their Coconut Club program.  These children have grown up under the supervision of only 1 adult (usually in their early 20's) per 35 kids.  These kids flourish when nurtured with the kind of programs being offered so we are proud to lend our backing to their cause.
What is the Coconut Club?
Coconut Club offers a programme of on-going leisure and education development activities that provide after-school, weekend and inter-session experiences to the 130 residential students of the Rachaprachnukroh School in Kamala and to the Primary 5 and 6 classes at Baan Kalim School in Kalim.  The aim of the organisation is to help Thai youth become capable and confident English speakers so they can secure well paid employment in Phuket's tourism industry.
How does the Coconut Club help the children?
The residential students are orphans or children whose families are not able to look after them. They rarely, before Coconut Club, had the opportunity to leave the school grounds or engage in any activity outside the routine of their school lives. The Coconut Club enhances not only their English language skills, but also stimulates their imagination, experimentation and independent thinking abilities. It provides a safe and comfortable developmental environment, which raises their self-esteem and confidence, allowing them to use and apply what they are learning in their English class to their everyday life. Additionally, since we involve many volunteers who visit Phuket, it is an opportunity to interact with a diverse range of individuals from many different parts of the world, exposing the children to different accents and ways of speaking English. Beyond this, the activities involved often connect the children to their community and raise their awareness of issues specific to Phuket Island.
Coconut Club meets five times a week, Monday to Friday from 3.30pm – 4.30pm, and on weekends. During the week the teachers at Kamala, with the help of a volunteer staff, plan arts and crafts, sports, and team building games. Teachers tailor the activities to the interests of the children. At weekends we run sports programs including swimming and arts and crafts workshops.