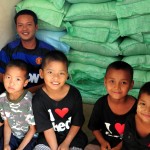 For only $26 we can supply a basic food staple to 45 orphans for 3 days.  This is the foundation of most orphans' diets and a constant need in the fight against hunger.  Fund a bag or more if you have the means.
 Funded By: Available  
Donor(s):  Burke Marksity, Katie McCullough
Background:  
Over 200,000 refugees line the borders of Thailand and Burma, held in refugee camps that can barely manage to provide for basic necessities. Tens of thousands of these refugees are children – children who have been traumatized by the ongoing war waged by the Burmese military dictatorship against the regions hill-tribes. Here they end up in the camps or living illegally along the border regions, at huge risk of being taken into the sex trade, suffering malnourishment and other ongoing threats to their well being and lives. In addition to basic necessities like shelter, clothes, food and education, children also need hope, joy and play.   
The orphans survive by wading through the mounds of garbage for recyclable plastic or selling illegal goods which unfortunately doesn't get them enough to even get enough food or water let alone shelter etc so we want to call on donors to help us make a big difference in these children's lives!
Our goal is to help by teaming with local volunteers to begin making a real difference using a focused approach e.g. one or two Orphanages.
We will also be looking to potentially use these and other funds at an Orphanage on the Thai/Burma border (Mae Sot) or at an Orphanage near Thai-Muang, Phang Nga Province (80 km North of Phuket), Thailand.